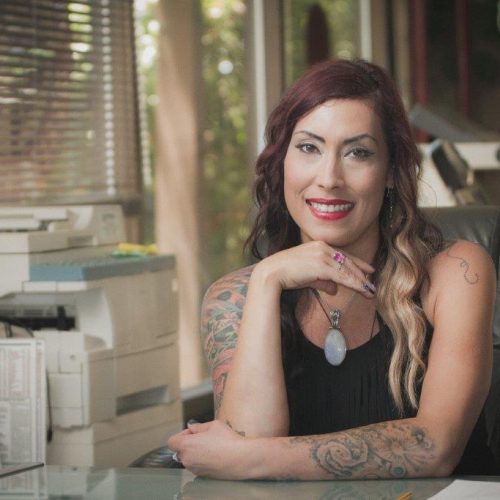 Genea Avila
CERTIFIED PERSONAL TRAINER & CERTIFIED NUTRITIONIST
OWNER & FOUNDER
Born in Santa Cruz, Genea Avila, powerful out of the womb, began dancing Ballet, Tap, Jazz, Lyrical, and Broadway at the age of 4.  Genea's Passion for Jazz dance was simply undeniable and organic to her birthright.  At the formidable age of 16, her collective passion for Jazz Dance led her to teach.   Throughout the natural development of life, Genea studied many other forms of specialty movement including Yoga, Pilates, and Tai Chi.  Her love for dance catapulted her into a broader love of wellness which charted the path for mastering her physical and emotional health on such a dynamic level; it prepared her to share it with the world.
Prior to her professional career, Genea obtained her M.A. (Medical Assistant) through ROP in the medical field during her college years; ignoring her own failing health signs.  Genea Suffered from Auto-Immunity Disorders during this developmental time including; extreme fatigue, body aches, limited basic movement, and an unexplainable 60-lbs weight gain.  Now, with an entourage of diagnoses including Psoriasis, Hashimoto, Epstein Bar to Low Platelets but never truly landing on a full conclusion; this Journey of personal suffering became a strong contributor to her compassion, "I love helping people live healthier, happier lives" … thriving for the very same things in herself.  At 25, no longer willing to discount her own health issues, she began to alter her direction from the medical field to create a wellness center following her true passions and she shifted careers.  Three years after getting certified as a Personal Trainer (2003) and being inspired by notable well-seasoned mentors, she opened BALANCED HEALTH and FITNESS in 2006.  This transmigration allowed Genea's tapping into faucets of wellness including; THETA HEALING, P.P.T.P and other energy and spiritual modalities
Genea recognizes diet is a major part in living a healthy life and is certified in Hair Analysis & Nutritional Balancing. Hair Analysis is a major part of her program design. It shows exactly what minerals clients are insufficient in, or have an excess of. It also identifies what toxins are hiding within the body. This takes the guesswork out of supplement and nutrition programs.  She is also well versed in Osteoporosis, Diabetes, and Thyroid conditions.  A healer and mentor, you won't find a better "Walk your talk kind of gal! She's constantly evolving her own holistic values and practices as well as utilizing her own experience and healing work with others.  Genea nears a decade of individual business owner success and 15 years of co-creating healthier bodies and lifestyles.  She is a constant example of commitment and re-commitment to her own well-being. Part of her progress involves being part of a fitness movement teaching health and wellness classes, public speaking, and co-hosting health retreats.
Genea is focused on customizing and personalizing BALANCED fitness routines for her clients and overseeing their achievements as they progress into healthy, happy individuals. "Everyone is unique and has different needs." Her goal is to ensure that Balanced Health and Fitness clients maintain a BALANCE of resistance, cardiovascular training, and flexibility in their workout routines.
Genea has also learned the tricks of the trade-in running a successful business with over a decade of experience.
Genea's Additional Certification include:
– American Council on Exercise (ACE)
– Westbrook University Nutritional Balancing Science
– TRX Qualified Suspension Training
– THiNK THETAHEALING Advanced DNA
– THiNK THETAHEALING Basic DNA
– THiNK THETAHEALING Game of Life
– THiNK THETAHEALING Intuitive Anatomy
– THiNK THETAHEALING Manifesting and Abundance
– THiNK THETAHEALING Soul Mate Day